Penrhyn Quarry 2 ton Slate Waggon
Built in 1886-95 by Midland Railway Carriage and Wagon Co, this was the last type of Slate Waggon built for the Penrhyn Quarry to carry finished roofing slates from the mills at Bethesda to the Port Penrhyn for shipment around the world. Although built in large numbers and almost still accounted for when the railway closed, very few survived into preservation.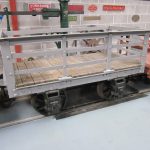 Penrhyn Quarry Long (Coal) Waggon
There were only 4 Long Coal Waggons, (all of the technically owned by the Anglesey Shipping Company, which was at the time of construction not part of the Penrhyn Quarry, but a separate Company owned by Lord Penrhyn, ) although No. 3 disappears sometime during the war, on loan to the Ministry of Supply.
Three sawing sheds on Ffridd Level of Penrhyn Quarry were taken over by the Government in early 1942 to hold emergency food supplies for North Wales citizens, in case the German submarines sank too many ships carrying the food imports. This was between Easter and Whitsun 1942.
The long waggon, No-3 was also passed over and never returned.
However, that leaves 3 long waggons  – No. 1 has a central drop-side door. The other two waggons each have a dropside for the full-length of the waggon, and can only be identified by a very close look at the hinge arrangements!
Penrhyn Quarrymans Coaches
These coaches were built to carry quarrymen to work on the Penrhyn Quarry Railway. We have four such coaches here in Bala, three are replicas built for use on the sadly short lived revival of the PQR at Felin Fawr which closed in 2018, while the fourth is an original, Coach P (currently dismantled for restoration). The coach pictured below is one of the replicas.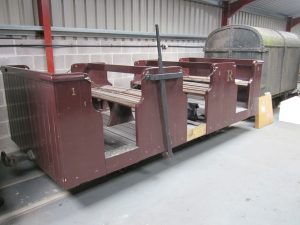 Penrhyn Fullersite Waggon
Built possibly as late as the 1940's for the carriage of bagged fullersite which is ground slate granules. This waggon has lift out sides (to be added shortly, restoration still unfinished).